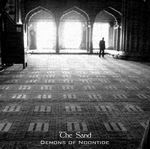 From Rimini, Italy comes The Sand, who have slowly been recording since 1997. "Trad Goth" fans will especially enjoy the three tracks that the band has offered as free downloads to RFA listeners in order to celebrate their new release, Demons of Moontide.
"Rome in Winter" - from Demons of Moontide (2007) | 128Kbps 5MB
"White Mantra" - from Red Riding Hood (2005) | 192Kbps 9MB
"Prayers" - from The Memory of Dead Romances (2001) | 128Kbps 5MB
Or download all three tracks in a ZIP file (19MB).